Every woman deserves a new fabulous handbag for Fall. It's a rite of passage come the first week of September, for women to ditch the beat up summer bag and swap the lighter hue for a darker Fall-friendly option.
While a new bag may not be in everyone's cards, it's still fun to dream, so here are my would-be picks for a new Fall purse:
The leather flap front bag with the grosgrain interlaced gold chain is totally glam and ladylike. Love that it can work with either day or night.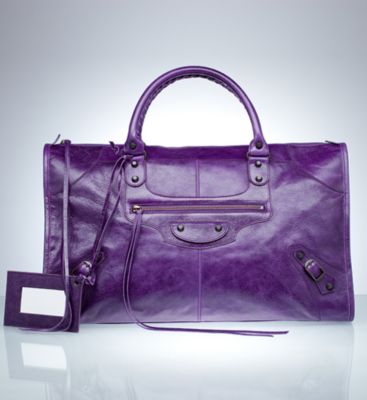 The buttery soft lambskin and vibrant violet hue are my dream come true in purse form. I love this bag and always will.
Matelasse Luxe Hobo by Miu Miu, $1,445.00
The deep dark blue colour is a subtle change from black and brown.
Robinson Shoulder Bag by Tory Burch, $545
A fresh white hue stands out amongst Fall's darker palette, but the lizard and patent accents keep it from being too glaringly bright. I like the equestrian vibe!
Large Patent Nightingale by  Givenchy, $1,895.00
Totally diva red patent leather is a great way to incorporate colour into a neutral wardrobe and add some flash while still staying classy.
Goyard's St Louis is elegant and functional as an everyday carry-all. Love the bright blue undertones and the timeless design.
 Lune by Balenciaga, $1,995.00
Patent leather details liven up this traditional preppy look. I like the fact that can work with both black and brown outfits equally well.
Morgan Satchel by  Botkier, $650.00
Black lambskin with zip detail and fringe looks right at home with fall's  biker leather jackets, or it can add some sass to an otherwise prim get-up.
Patchwork Leather Stam Bag Marc Jacobs, $1,550.00
This classic silhouette from Marc Jacobs is sinfully sweet in this chocolate hue. I could do without how heavy the strap is but it sure looks great!
This pleated clutch has an adjustable and removable shoulder strap for clutch-a-phobics like me, plus it's just the right size for a night out at a bar.
Seashell Minaudière by by R. & Y. Augousti,  $1,250.00
I know I said I didn't love clutches, but I'd make an exception for this exquisite  minaudière. It's so regal yet boho – love it with an LBD and emerald earings!