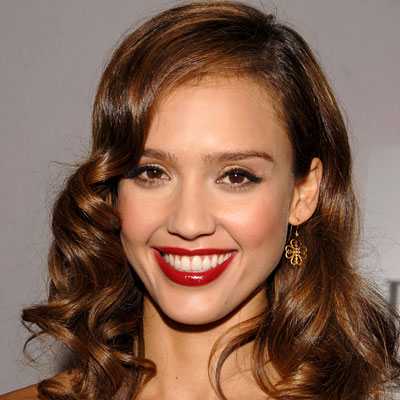 When it comes to make up, there is nothing more glamorous than retro red lips like the ones sported above in the vintage images from my blog header.
The look is a deep scarlet with a matte finish that is creamy and not too  overly glossy (like Miss Alba's red carpet look)
Paired with an understated face, the look is classic and elegant, yet picking the right shade of red and the right formula is rather tricky.
I've tried drugstore and department store brands without success, but NARS has come to the rescue with their Velvet Matte Lip Pencil in "cruella" (which I sported on my big night with my matching red satin dress)
The application is simple with a chubby crayon that you sketch on to your lips. The pencil coats your lips with rich pigment that looks like a creamy lipstick, yet has the staying power of a pencil.  The non-drying formula is enriched with special emollients and unique silicones that create the long-lasting velvet look.
I wore it all night at the party and only had to touch it up once before speeches! What a dream!!!
PS- The name of the shade was the clincher for me in terms of taking the pencil home from the NARS counter. Cruella de Ville was the ultimate diva, even if she was PETA's worst nightmare!
"Cruella de ville, cruella de ville
If she doesn't scare you, no evil thing will..."